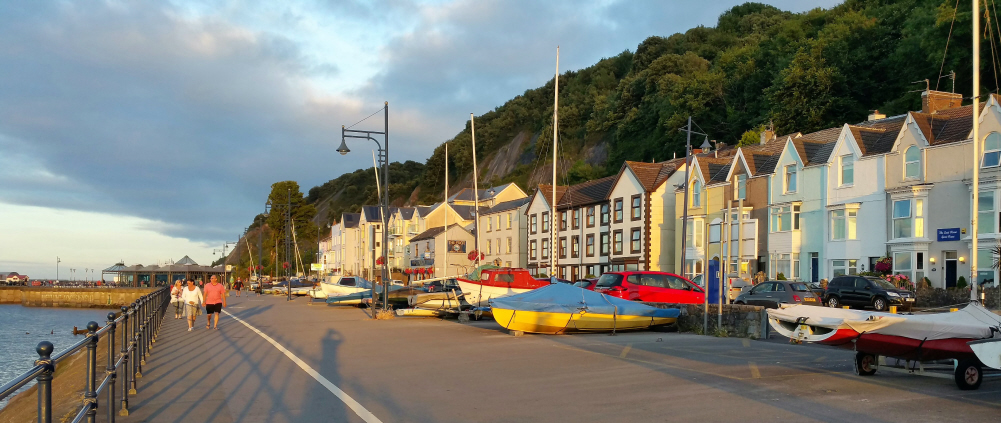 Welcome to Mumbles In Swansea….
A seaside resort and popular fishing village, located on the Southern coast of Wales, which happens to be an extremely popular place with visitors. Both from within the UK itself and abroad. Especially so during the warmer periods of spring and summer. It is a place that is loved by many.
With a splendid view of Swansea Bay and beyond on a clear day. If you want to visit the Gower Peninsular and sample the many long beaches and great walks, then you must first head to the Mumbles…. it's a good place to start your journey.
There are lot's of things to do in this part of Mumbles... Oystermouth Castle is a popular attraction for families with young children. With outdoor events taking part in the castle grounds during the summer….
And there are some nice cafes and restaurants here for dining out in style, if you choose.
Prezzo's Italian Restaurant is one such establishment, and it is located in Oyster Wharf, by the promenade. You can't miss it. You can book a romantic meal for two here, and dine out in style, right by the waterfront. With a great view overlooking the bay, from the second floor roof terrace.
This is a classy mumbles restaurant… designed with stunning architecture in mind. And it is well lit up at night… with very attractive lighting. Both indoors and outside. You can't walk past this restaurant without being impressed by it, in some way. It's very similar to building designs that you see in Dubai.
It catches the eye, for sure !!!
Mumbles In Swansea
If you like ice-cream there is a Joe's Ice-cream parlour close-by. Where you can sample the many different flavours. They are the most popular vendor for creams in South Wales, by a clear mile.
Verdi's also has a very established business here. They have been serving great-tasting creams and italian coffees to regular customer's from a prime position, on the promenade. Fancy a cake, or maybe try some of their tasty pastries? They serve them to, and home-made pizza's and pasta.
They have a very large food and drinks menu to offer visitor's. So you are sure to have a great dining experience, at any time you visit.
Mumbles In Swansea also has more than it's fair share of shops, pubs and clubs… Churches, cafes, restaurants and eateries… Take your pick of where you want to relax and chill out, of an evening. Or in the daytime, if you like… nobody is keeping count here.
One thing that you will notice, during a visit here, is that people are friendly and helpful. Especially, when asking for information about events or attractions that are taking place in the area. That's what I have come to find on some of my recent visits.
This place is a hive of activity… on a good day you'll see many cyclists out and about… ramblers and walking enthusiasts. Skateboarder's and rollerblade user's. Holiday-makers and tourists…. young families and people working for the various businesses in the area.
Watersports is a very popular pastime…. a passion shared by many. It's a very enthusiastic sport in South Wales.
Mumbles In Swansea
Every year during the summer period, when the day's are long and people are generally more active, you will see jet ski's and speed boats in the harbour. A great time for picture taking, if you have a pretty decent camera setup. With a long lens to capture the action. Watersports are a great subject for exciting picture taking possibilities. But you do need a good camera and technique to match, in order to capture the best sporting action.
This picture above of a couple of youngsters on the water, with a dinghy, was taken using only a smartphone. But it captures the moment beautifully, just as the sun goes down, after another gorgeous summer's day.
If you like to take part in outdoor events, where they raise money for charity, you can take part in the Mumbles Raft Race. You can read more about that event and how the charity benefits by clicking here.
There are many bed and breakfast establishments here, and hotels to, where you can book a room for any length of stay. Patricks With Rooms is a local restaurant that also has rooms available for guests looking to stay in the city.
Mumbles Pier is popular with visitor's in the summertime… this pier has been in use since 1898 and is a regular seaside tourist attraction for many people every year. You can see the Mumbles Lighthouse easily from here and this pier is steeped in rich history, dating back over many years. There is an amusement arcade here if you want to spend some of your time… and your money !!!
You can get some tasty refreshments here, at the Beach Hut Cafe… grab an ice-cream at the local parlour… have a game of bowling, or relax with a fish and chips takeaway at Copperfish Bar, Restaurant And Takeaway.
Or you can spend the day on the beach, near the lighthouse, with a bucket and spade, and have a great time with friends and family.
The Mumbles RNLI is pictured above and is stationed at the piers end. The service has been in operation and saving lives for more than 180 years. The lifeboat station is open to daily visitor's from 11 a.m to 5 p.m and there is a shop on the premises to.